Your search for the best German Education Consultants in Bangalore ends with Study Sure, the leading German Education Consultants in Bangalore. As it is important to understand the quality of education and career opportunities in Germany Our councilors assist you with free German Education counseling to students for studying Bachelor degree courses & Postgraduate course in Germany. Our tie up with the German Language centers in Germany ensures conditional admission to major colleges & universities in Germany.
We are specialized in German education consultancy and acknowledged as one of the top study in Germany consultants in Bangalore for Diploma courses, Certificate Courses, Undergraduate courses and Post graduate. We provide complete course guidance, Documentation, Visa procedures, and provide basic German language courses required for admission in German Colleges & Universities.  German is one of the 10 most spoken languages in the world and learning German can open many doors to the students. Study Sure is one of the top study in Germany Consultants in Bangalore for education programs in Germany and provides best possible guidance to all kinds of queries related to overseas education programs in Germany.
FREE EDUCATIONAL PROGRAMS OFFERED BY GERMAN EDUCATION CONSULTANTS IN BANGALORE
Germany is recognized for providing free education to its citizens and students from other countries. Below are the popular free study options for international students in Germany
AUSBILDUNG PROGRAMS (VOCATIONAL TRAINING PROGRAMS)
Vocational training program ( Known as Ausbildung in German) is a free vocational training program provided by various companies and industrial organizations, including a monthly stipend for selected students. Although some courses are reserved for German and European students, many programs are open to students from all countries, including India. Vocational training programs include theory and practical training but give more importance to the practical training that prepares students for the job market once they complete the course. These training programs equip students with theoretical knowledge as well as hands-on experience across a range of areas.
The most significant benefit is that the programs do not charge tuition and are a good choice for students who want a professional, practical education free of cost and get a stipend amount that can cover their accommodation and other expenses. Students from all over the world have the opportunity to earn essential qualifications and certificates; they also get an income to cover the costs of their lives, which makes the experience more affordable and rewarding.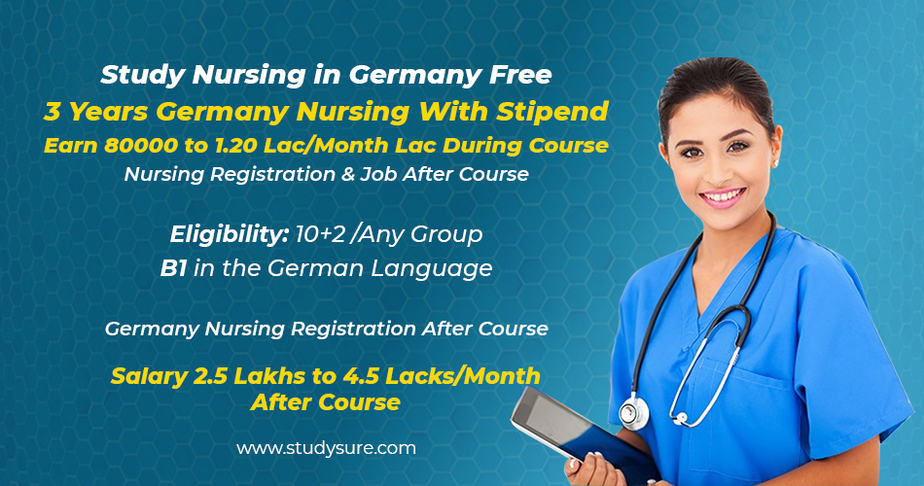 AUSBILDUNG PROGRAMS REQUIREMENTS
Educational Qualifications
12th Passed students with minimum 60% marks (All Streams are eligible)
Should have completed B1/B2 level in the German language
Age should be between 17 to 27 years
Benefits of Ausbildung Programs
Free Programs- No Tuition Fees
A stipend of INR 80000 to 1.20 Lac/Every Month
Better Salary and Benefits after completion of the study program
Duration of the Program:  3 to 3. 5 Years depending on the type of the program
For more information about Free Vocational Training programs (Ausbildung), Contact Us Now
AUSBILDUNG PROGRAMS AVAILABLE FOR 2024 BATCH
Nursing
Mechatronics
Automation
IT specialist
IT System Integration Specialists
Cook
Office Management
Office Secretary
Tourism Specialist
Hotel Specialists
Heavy Drivers
Textile Technicians
Plant Operators
Industrial Designer
Heavy Machine Operators
Tool & Die Specialists Etc..
FREE MASTER'S PROGRAMS AT GERMAN PUBLIC UNIVERSITIES
Germany has become the most preferred destination for Master's programs because of the free PG programs available at German Public Universities for International students. As you are aware German public universities, do not charge tuition fees for PG programs, including Master's in Engineering.
The only fee applicable at German public universities is a semester fee between 200 to 350 EURO. No tuition costs allow students to concentrate on their research, take advantage of available opportunities, and set the stage for a successful academic experience.
From specialist PG programs in engineering and technology to arts and business administration, Germany provides several options for students seeking to develop their knowledge and skills in their fields of study.
Requirements for Masters Programs
Minimum 65% Marks in Graduation
IELTS minimum 5.5 for English Taught programs
B2 in the German language for German-taught programs

APS Certificate

( Certificate verification Process)
In short, Germany's education environment is a blessing for international students. It offers not just free Ausbildung courses but also Masters's programs with no tuition costs.
For more information about Free German Masters programs at German Public Universities, please Contact Us
3. MDS IN GERMANY AFTER BDS IN INDIA
Are you a licensed dentist in India looking for MDS study in Germany or a dentist job in Germany? We can offer you both. For more information about the job opportunities for Indian dentists in Germany, Contact us at the earliest.

4. JOB OPPORTUNITIES FOR ENGINEERS & HM GRADUATES (FRESHERS & EXPERINCED)
Germany has a lot of job opportunities for Engineering & Hotel Management graduates. We can assist you if you are looking for job opportunities in Germany. Final Year Engineering students can also contact us information about job openings in Germany.  For more information, get in touch with Us.
Services Offerd by Germany Study Abroad Consultants in Bangalore
Course Guidance, University Selection, Country Details
Admission Procedures of German Language Centers, Universities & Colleges
German Visa Assistance
Ausbildung interview preperation
Online German Classes
German Language Courses Guidance
German Scholarship Information & Much More
For more details please send your enquiry
Study Sure
Palakkad. Kerala –  India.
Mob:  8289919484
Email: studysureindia@gmail.com