N. P. Ogarev's Mordovia State University (MRSU) is located in Saransk City. It is the capital of the Republic of Mordovia. The Mordovia University was established in October 1957 to extend the Mordovian National Pedagogical Institute, founded in 1931. MRSU offers undergraduate and postgraduate courses in various streams. Mordovia State University MBBS fees is affordable compared to other universities in Russia.
Approximately 14,000 students, including global understudies from eight countries like India, Nepal, Pakistan and Bangladesh, are studying there. Mordovia State University is one of Russia's famous colleges for MBBS programs. It is approved by the Russian Federal Ministry, the National Medical Commission India, and the World Health Organization (WHO). In this way, MBBS graduates will become qualified for the FMGE/MCI /NMC Screening Test and other tests like USMLE, PLAB. The MBBS program is given exceptional preparation. Mordovia State University's medicinal department is acknowledged among the most prestigious in Russia. MBBS graduates of this University are currently working in Russia, the USA, Germany, India and other countries.
The Institute of Medicine of Mordovia State University is well-equipped to prepare highly qualified medical practitioners. The facilities of medical clinics include the latest model PC s with high-speed Internet, video classes, language centre, library, meeting rooms, lounge area, and other modern facilities.
About MBBS in Mordovia State, Russia
MBBS in Russia – it's one of the great opportunities that you could be offered. Many educational institutions in Russia offer their international students the chance to study MBBS. Since many of the educational institutes in Russia are highly reputed, students get the chance to study in the best medical schools and colleges in Russia. It is beneficial for them, as they could get the chance to earn lucrative degrees at an affordable cost while living in a foreign country.
Overview of Mordovia State University
Particulars
Status

Approval Status

WHO & NMC India Approved

Present Country Ranking

28

Present World Ranking

1427

Admission Intake

September- October

M

edium

English

MBBS Duration

6 Years

Admission Requirements

NEET + 50%Marks in 12th PCB
Affordable Medical Education:
It is one of the best options because it has pretty affordable admission charges, matching most of our domestic aspiring students' pockets. So, students from India can have the chance to have direct MBBS admission in some of the top medical colleges and universities of Russia. You may find many such medical colleges and universities in Russia, like the Mordovia state medical university, which offer a world-class MBBS degree. Some of these medical colleges and universities also have their campus in different parts of Russia.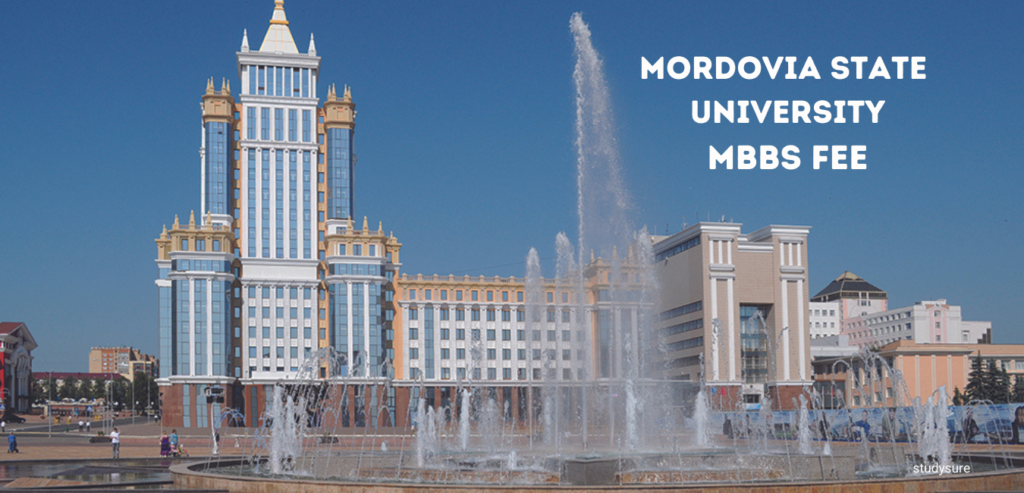 Mordovia State University  MBBS Fees 
O. P. Ogarev Mordovia State University Tuitions Fees & Hostel Fees
1st Year

INR 2,98,980

2nd Year

INR 2,98,980

3rd Year

INR 2,98,980

4th Year

INR 2,98,980

5th Year

INR 2,98,980

6th Year

INR 2,98,980

Hostel Fee/Year

INR       2100
Hostel and Mess
In 2010, new exclusive Hostels opened to accommodate more than 1100 international students. The hostel has separate wings for girls and boys. Each floor is equipped with a digital TV and Fridge. Each room has a shared toilet/washroom, which is used as a warming office in winter. The most secure living place is the one that has a complete set of furnishings, including a bed, a table and seats. There are many offices with Broadband Internet access. These include pantries, execution lobbies, wellness rooms and other areas.
International Medical Students Hostel has an Indian Mess that serves high-quality Indian dishes to medical students from India. Indian mess is known for its quality veg and non-veg dishes.
Sports Facility
The University has four recreation centres and two recreational edifices. Both local and foreign students have the same right to enjoy the sports facilities provided in the recreation centers.
Admission Process
The Admission process starts in June every year. Indian applicants should meet the minimum criteria prescribed by University, like NEET qualifying score and 50% marks in Physics, Chemistry and Biology. Mordovia State University is approved by both the WHO and National Medical Commission of India, giving Indian students an upper hand in choosing this University for their MBBS studies.
Ogarev Mordovia State University admission does not require IELTS/TOEFL scores.
Hostel Accommodation 
These are the Mordovia State University's hostel accommodation options:
On the Mordovia State University campus, students from both local and non-local are accommodated.
The hostel area is entirely safe and secure as it is under CCTV surveillance for student's safety.
Foreign student's hostel can accommodate around 4500 students.
Students can enjoy a wide range of amenities at the hostel at Mordovia state university, including a laundry facility, performance halls, fitness rooms, library, and many other facilities with internet access.
Are you planning to study MBBS at Mordovia State University? If you need More information about MBBS Fees structure, Hostel Accommodation Details, Hostel Fees, and other details, please contact us.
We Provide Assistance for MBBS at Mordovia State University and other Universities in Russia, Ukraine, Belarus, Kazhakstan, Georgia, etc.
Call/Whatsapp 8086000842 (Kerala)   Or Send Your Enquiry