MBBS from the UK is a dream for most of the MBBS aspirants in India. Though MBBS in UK is one of the leading and popular courses for aspiring medical professionals, it may seem quite challenging to get into some of the medical schools in UK. Although the students completing their MBBS from the UK are exempted from MCI Gate exam to practice in India, it is better to check whether the Medical College you have chosen is in the list of MCI Approved Medical Colleges in the UK.
When you decide to study MBBS in UK, it is always better to visit the National Medical Commission or Medical Council of India website to check the approval status of the UK Medical College or University before taking admission.
Why Study MBBS in UK?
Studying MBBS in the UK is not an easy option as it is costly compared to other countries. But the reputation of a UK medical graduate is unparalleled and treated highly in the medical world.
You will also have the opportunity to expand your knowledge on different medical practices, hospitals, research and much more. And there's absolutely no doubt that you can be one of these! Although you can study in any part of the world, it is impressive how UK medical institutions and their scientific stack up against other medical schools and colleges.
The dream to study MBBS in the UK is still one that many individuals have dreamt about at some point in their lives. The United Kingdom provides:
Excellent educational opportunities.
A rich social environment.
Rich world-class medical education to thousands of prospective students every year.
Studying MBBS in the UK allows you to experience a new way of learning and an altogether different culture.
MCI Approved Medical Colleges in UK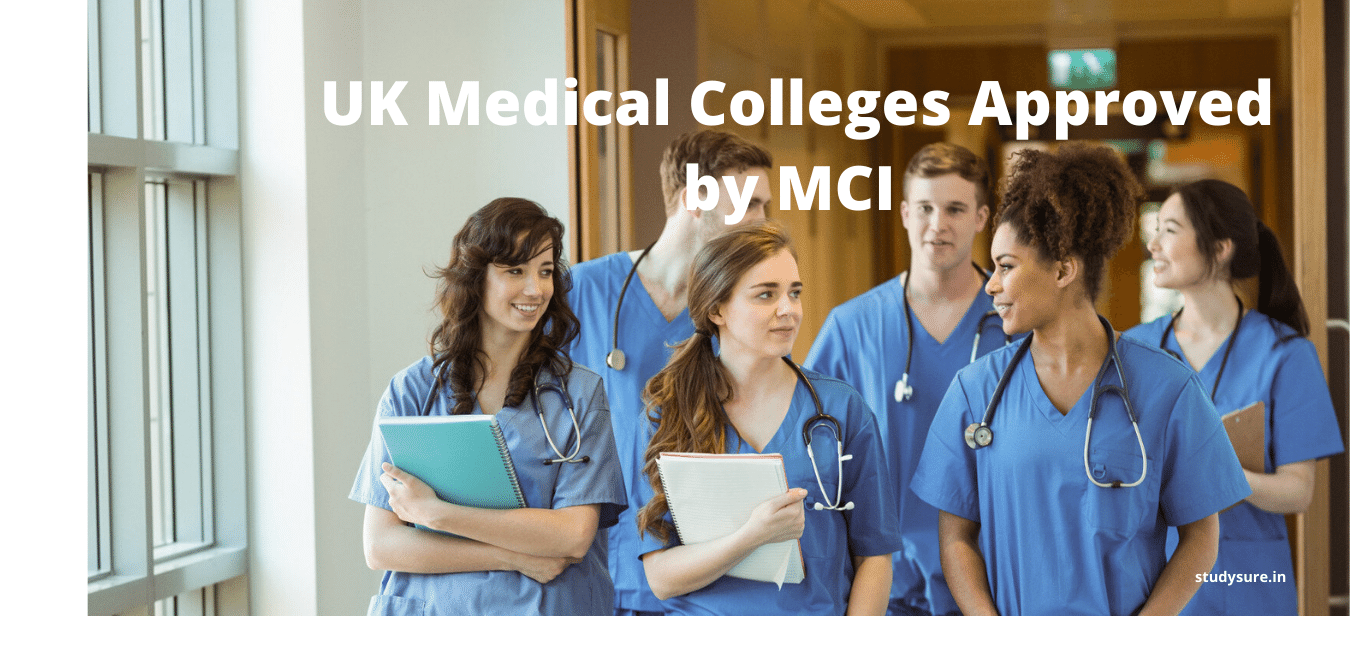 A list of MCI recognized medical colleges and Universities is given below.
You may also check the MCI approved medical college list from the National Medical Commission or Medical Council of India's website.
Queen Mary University of London , UK
Saint Georges University of London
University of Glasgow
University of Leeds,
University of Liverpool
University of New Castle Upon Tyne
University of Wales College of Medicaine, Cardiff, Wales
Postgraduate Medical Education & Training Board, UK
Scholarships for MBBS Course
Several scholarships are available for MBBS study in UK. The scholarships and grants differ from University to University. If you want to know more about the scholarships and grants available in the UK please contact our UK study experts. They will help explain the scholarships you can apply for the medicine programs. We have helped hundreds of students get scholarships for study abroad programs in various UK, Germany, Canada, Italy and other countries. If you want any assistance with scholarships, contact us now. With these things in mind, you can now start planning out how to achieve your goal of studying MBBS in UK.
UK High Commission in India
Address: Shantipath, New Delhi District, Delhi. Pin code 110021
Phone:91 11 2419 2100. Website. https://www.gov.uk/world
Indian High Commission in UK
Website https://www.hcilondon.gov.in/
Related Posts:
MBBS in UK Fees
MCI Approved Colleges Abroad List
UK Study Visa