PhD (Doctor of Philosophy): A PhD is the highest degree that an individual can obtain in academics. It is pursued after completing a master's degree like M.A., M.Sc, MTech, MBA, M.Com, M.Phil, PGDM, PGPM, and others from a college or university recognized by either the government of India or any state government. It is an academic doctoral degree that requires the student to perform research in a field/ subject of choice relevant to his/ her master's degree. This article will explore the details of PhD eligibility in India, The qualification to do Ph.D. in India, Eligibility Criteria for Ph.D. in India, etc…
Qualification to do PhD in India
To choose a field of study for a PhD, the candidate must possess prior academic/ educational experience in that field and have secured the minimum score mandated by the college/ university.
Duration of PhD Part Time & Full Time
The duration of a PhD varies from 3 to 5 years, which means that students can obtain their PhD between 3 years to 5 years. It generally depends on the mode of study and the academic rigor of the candidate. In extreme circumstances, universities/ colleges offer candidates a grace extension period of one year to complete their academic obligations to obtain a PhD.
There are two modes of pursuing a Ph.D., i.e., you can pursue it in either a full-time mode of study or a part-time mode of study. The syllabus for a discipline of Ph.D. remains similar for both modes of study. Another mode of study was distance mode, but it is not recognized anymore by the UGC (University Grants Commission) as per the circular released in 2017. The eligibility varies slightly for both modes of study and is further discussed in the article.
After obtaining a Ph.D. in any field, you will be allowed to use the 'Dr' prefix before your name. It is a highly respected degree across all the sectors in India as well as globally. It adds to your educational value and your industrial value, i.e., you will be able to land better positions in both sectors – academic and professional. Adding to that, you will get reasonable offers from reputed companies if you obtain your PhD from any prestigious universities in India.
Some of the top universities in India to pursue a PhD are IITs (Indian Institute of Technology), IIMs (Indian Institute of Management), IISc, University of Delhi, JNU, Calcutta University, Jadavpur University, and others.
Why Pursue a PhD?
The points mentioned below are a few of the benefits of pursuing a PhD:
If you want to specialize in a particular area of study after you have obtained your master's degree, you should pursue a PhD in that area of study. It will offer you a chance to learn more about that area of research and offer you the opportunity to conduct unique research in that field.
If you are looking for growth in your professional career, you should opt for a PhD.
Obtaining a PhD offers you a wide array of job/ career/ professional/ academic opportunities.
While you are pursuing your PhD, you will be exposed to various learning methods, both core and cutting-edge. These will help you to obtain in-depth knowledge & new skills about your specialization subject/ topic.
During your PhD, you will be able to interact with various academic leaders and industry leaders in your field of specialization.
If becoming a professor and teaching in one of India's top universities and abroad is your dream, you will have to hold a PhD.
Many government organizations hire advisors in various fields who hold a PhD. So, if you want to become an advisor to a government organization, it is highly recommended that you pursue a PhD.
Eligibility Criteria
The Eligibility criteria for pursuing a PhD in India are mentioned below. You need to note over here that universities/ colleges have slightly varying eligibility criteria across India. This means that after you have decided on the college/ university from where you want to pursue your PhD, you need to check its eligibility criteria on its official website before applying.
Bachelor's Degree. To pursue a PhD, you need to have a bachelor's degree (BA/ BSc/ BCom/ BBA/ BTech/ B Pharma/ others) from a government recognized college/ university.
Generally, there is no minimum mark requirement in your bachelor's degree, but having a good score will surely help you secure a seat to pursue a Ph.D. from a top university in India.
You should have completed your master's degree (MA/ MSc/ MPhil/ MCom/ MBA/ MTech/ PGDM/ PGPM/ others) from a government recognized college/ university to apply for a PhD in India.
55% (or equivalent CGPA) is the minimum mark you need in your master's degree to pursue a Ph.D. Some universities mandate a higher percentage, but most universities/colleges in India generally accept 55%. Students' eligibility for PhD in various courses like PhD in Data Science, Psychology, PhD in Chemistry, Engineering, Economics, etc. varies according to universities. Students may check the official websites of the concerned universities for Ph.D. course eligibility.
Relaxation in Eligibility Criteria
As per the eligibility criteria to do PhD in India, If you belong to the reserved category (OBC/ SC/ ST/ PwD), you will get either a 5% mark relaxation or a 10% mark relaxation. The relaxation in criteria depends on the university and can be checked on the university's official website. As per the reservation policy of the Government of India, the relaxation in the eligibility criteria for PhD in India is available in all Central, State, and Private Universities in India.  
The critical aspect is that you need to hold a full-time master's degree. Correspondence master's courses are generally not accepted by many colleges/ universities for PhD admissions, but some universities accept degrees earned through distance education.
Age Criteria PhD in India  
The University Grants Commission (UGC) has not prescribed any upper age limit for pursuing a PhD in India. For more details about the upper age limit for PhD, students can check the universities' websites.
PhD Entrance Examination
PhD entrance exams are mandated by almost all the colleges and universities in India, which means that a candidate has to clear an entrance test to secure a seat for pursuing a PhD.
While many universities and colleges in India accept Ph.D. entrance exams like UGC NET & UGC JRF, some other universities have their entrance exams. A few of them are mentioned below:
BHU-RET: Banaras Hindu University.
TISS-RAT: Tata Institute of Social Sciences, Mumbai.
DUET: Delhi University.
JU Entrance Test: Jadavpur University.
JNUEE: JNU, New Delhi.
All India PhD Manipal Entrance Test (MET): Manipal Academy of Higher Education
AMU PhD Admission Test: Aligarh Muslim University.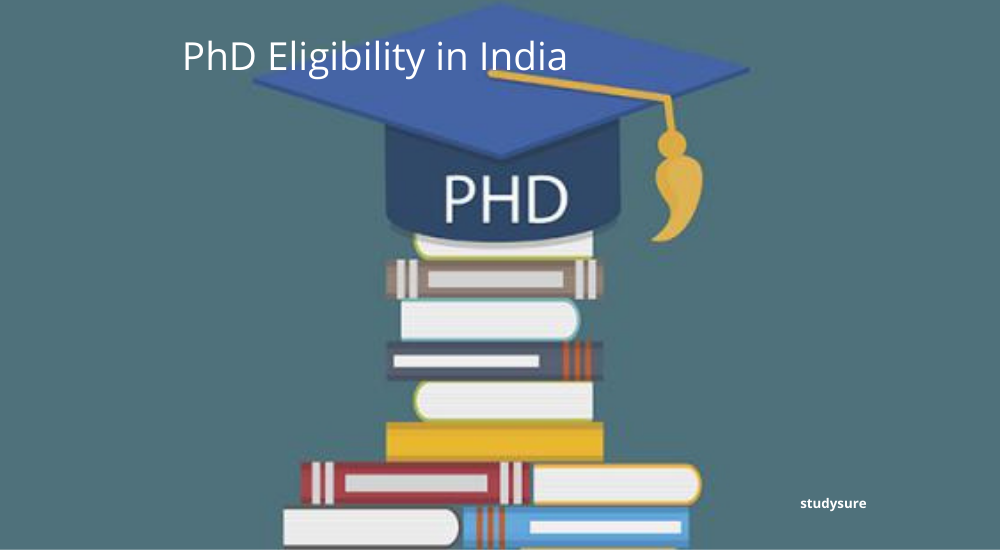 Work Experience
Some universities and colleges in India require you to possess specific work experience in a relevant field as an eligibility criterion for applying to pursue a PhD.
Admission Process
After you have fulfilled the eligibility criteria, you will have to follow the admission process mentioned on the official website of the university/ college to apply for a PhD.
Categories of PhD in India
Generally, there are four categories of PhD in India. The details for all four categories are mentioned below, along with whether or not they have any distinct eligibility criteria.
Self-Financed PhD
A self-Financed PhD course is a typical course that candidates pursue from various colleges and universities. Students do not receive any special fee waiver.
For a self-financed PhD, the eligibility is the same as mentioned above.
Sponsored PhD
Sponsored PhD is pursued by individuals who are supported by the research & development departments in various organizations. Generally, sponsored PhDs are pursued in part-time study.
To be eligible to pursue a sponsored PhD, you need to fulfill the eligibility criteria prescribed above. Along with that, you need to meet the points mentioned below:
You need to have full-time employment at the organization that is sponsoring your PhD.
A sponsorship letter from the organization needs to be furnished at the time of admission.
For the Sponsored PhD program, a No Objection Certificate (NOC) from the organization is required.
Government/ Semi-Government Fellowship PhD
The government of India and various state governments offer fellowship to multiple candidates every year to pursue their PhD. Generally, students who have an excellent academic record and have achieved something distinct in the educational field are offered these fellowships. The fellowship PhD candidates get a complete fee waiver and also receive a stipend from the government.
For getting admitted to Government/ Semi-Government Fellowship PhD, you will have to fulfill the eligibility criteria mentioned above and the ones mentioned below:
You need to hold the fellowship letter issued by either the government of India or any of the state governments.
If you are working or teaching somewhere, you will have to furnish a NOC (No Objection Certificate) from the university/ college/organization.
Study Leave (Sabbatical) PhD
Some organizations (both government & private) offer three years study leave to candidates to pursue a full-time Ph.D. This is generally done to make sure that the candidate up skills and gains new knowledge that can be useful for the organization. You will need a NOC (No Objection Certificate) along with the eligibility criteria mentioned above to apply for admission to Study Leave (Sabbatical) Ph.D.
Conclusion: We hope this article about the eligibility to do PhD in India and Qualification required and other details helped you. We welcome your suggestions and feedback.
Related Post:

Part Time PhD in India