Are you looking to pursue higher studies in Canada without appearing in the IELTS exam? Have you appeared for the IELTS and scored below the required level? If you answered yes to any of the above questions, you are in the right place. In this article, we will answer a very common question: ''How to Study in Canada without IELTS?"
Canada without IELTS – Is it true?
Yes, you can indeed study in various universities and colleges of Canada without appearing for IELTS. The majority of international students feel that they have to clear the IELTS and score high marks to secure a Canadian university and college seat. Let us inform you that it is a wrong assumption. Some of the top universities and colleges in Canada happily accept international students who haven't appeared for IELTS.
It may be the most common entrance exam for English but is not mandatory in any sense. Universities and colleges in Canada offer various other eligibility requirements that you can fulfill even if you don't have the scorecard of IELTS. Ensure that you go through the entire article to understand all the bits & pieces of studying in Canada without IELTS.
What is IELTS?
If you are not sure, IELTS is one of the most common English entrance exams accepted by universities and colleges worldwide. The full form of IELTS is International English Language Testing System, and it is offered four times a month which adds up to 48 times in a year. It is a four-part test that analyses your listening, Reading, Writing, and speaking skills.
It is among the tests that have a very high worldwide recognition. The score range is from 1.0 to 9.0, where 9.0 being the highest. The fee of appearing for ILETS is around USD 250 per exam.
Will I get a Canadian student's visa without IELTS?
IELTS is not a mandatory requirement for obtaining a Student's visa for pursuing an academic degree in Canada, which means that you can easily get a student's visa to study in Canada after successfully securing a seat in any Canadian university or college.
Canada doesn't offer a student's visa; it offers a study permit treated as a temporary student visa.
One important piece of information to understand here is the university or college mandates that entrance tests. So, your visa application is approved based on your "Letter of Invitation" and not based on any entrance tests.
Study in Canada – Other English Entrance Tests
IELTS is more or less accepted in almost the majority of universities and colleges of Canada. Anyway, various other alternate English entrance exams that a student can clear to obtain admission to a Canadian university or college. The most accepted alternatives are mentioned below:
TOEFL.
CAEL (Canadian Academic English Language).
Cambridge Test (CAE/ CPE).
CELPIP.
Duolingo English Test.
CanTEST.
Pearson Test of English.
Over here, we would like to mention that you should go through the official website of the university or college to get an idea of the accepted alternate entrance exam. Being sure before applying is better than being sorry after applying.
How to Study in the Universities/ Colleges of Canada without IELTS?
There are alternate English exams easier than IELTS that various Canadian universities and colleges accept. Due to the current pandemic situation and some academic updates, other methods have also opened up for candidates who wish to pursue higher studies in Canada without appearing for IELTS.
If you qualify in any of the below-mentioned criteria, you will be eligible to go to Canada without IELTS:
The student has cleared an alternate English entrance examination as mentioned above.
The student has completed his high school with English-medium for at least four academic years.
The student has appeared for English as a major subject for at least a semester at the college/ university level and cleared it.
The student hails from an English-speaking country (This is not valid for Indian students).
Duolingo English Test – The popular exam that emerged during COVID-19
During the COVID-19 pandemic, various things changed for the world of education and higher learning. One such inclusion in the Canadian higher education system is the "Duolingo English Test".
It is an online English entrance test with duration of sixty minutes. A candidate can take it at any time during the day. The results are made available after just two days which is a great plus-point. The cost is USD 49, which is quite less than other English entrance exams, and students can take it as many times as they require.
The Duolingo English Test is accepted by around 3000 educational institutions worldwide and by Canada's top universities and colleges. So, students who want to appear for an entrance exam comfortably at their home can appear for the Duolingo English Test.
Some of the Canadian universities/ colleges that accept the Duolingo English Test are mentioned below:
Adler University, Vancouver.
Ambrose University.
Brock University.
Canadian College for Higher Studies.
City University of Seattle, Canada.
Lutheran Theological Seminary Saskatoon.
St. Stephen's University.
The University of New Brunswick.
Why Study in Canada?
There are many good reasons for pursuing your higher studies in Canada. Some of them are mentioned below:
Education Quality – It is a known fact that Canada is a top-priority study destination for thousands of international students from various countries globally. The quality of education in Canada, especially at the university/ college level, is ranked among the best in the world. Canada scores highly above the average educational index of OECD nations, including countries like the USA, Australia, the UK, the European Union, and others.
The Quality of Life – Adding to the amazing quality of education in Canada's good quality of life. Canadians are very open-minded and warmly welcome international students. Other factors like good healthcare, good public transport, low rate of crime, and others also add to the experience of studying in Canada.
Diversity of Students – As Canada is one of the best countries to pursue higher studies, several students from diverse countries visit Canada every year. This means that you will be a part of the diverse academic culture of Canada which will surely enhance your soft skills and knowledge.
Career Prospects – Most fresh graduates from Canadian universities and colleges are placed at good companies, both local and multi-national. If you obtain your higher education degree from Canada, you will surely land a good job with a handsome salary and have excellent career prospects.
International Recognition – The degrees granted by the universities and colleges of Canada are recognised internationally by various educational agencies. This ensures the validity of the degrees in nearly all countries around the world.
Top Courses in Canada Without IELTS
Mentioned below are some of the most sought after courses in Canada that can be pursued without IELTS:
Diploma Programs.
Certificate Courses.
Undergraduate.
Graduate.
Postgraduate.
Top Universities/ Colleges in Canada accepting students without IELTS
The University of Saskatchewan without IELTS Acceptance Criteria:
One-year diploma/ certification program in English.
A two-year diploma in Canada.
Three-year diploma course obtained from outside Canada.
University accepts other entrance tests like TOEFL and CanTEST.
Brock University
Acceptance Criteria:
You can study the Intensive English Language Program offered by the concerned university.
English Language Proficiency Waiver Letter from the last academic institute.
The student has past three years of good English grades.
Carleton University
Acceptance Criteria:
Answer scripts and transcripts of English or major subjects from the past three academic years. For example, if you want to apply for a bachelor's degree, you will have to furnish the transcripts of English and major subjects for Class 10 and 12th.
University of Winnipeg
Acceptance Criteria:
Students have to go through the English Language Program (ELP) of the university.
University of Regina
Acceptance Criteria:
The student should have completed Higher Secondary (+2) with English as the primary medium of instruction.
Concordia University
Acceptance Criteria:
The student has to study an additional academic English course while pursuing their degree.
Also Read: Study in Canada Consultants
Documents Required for Canada Study Visa without IELTS
Make sure that you possess the documents mentioned below before applying for study visa without IELTS:
Scorecard of Class 10 &Higher Secondary (Plus 2).
Scorecard/ Result of Bachelor's Degree (If you are applying for a Master's degree).
Letter of Recommendation from last educational institution.
Valid Passport.
Health Certificate.
Vaccination Certificate of COVID-19.
Passport size photographs.
Financial Proof.
Proof of Indian citizenship.
Any other certificates/ diplomas (As mandated by the university/ college).
Proof of English language proficiency /Percentage of marks obtained in English.
How to Apply for Study in Canada Without IELTS Exam?
Step 1- Ensure that you meet the eligibility requirements by visiting the official website of the college/university.
Step 2- Fill out the online application. Upload all documents.
Step 3 – If your college/ university requires you to obtain any additional diploma or certification, please make sure you do it within the time frame.
Step 4 – If you are selected for the merit list, you'll receive a letter of invitation or a call letter.
Step 5 – Accept it and proceed with visa formalities.
Step 6- Upon receipt of your Call Letter or Letter of Invitation and other documents, you will receive a Canada study permit.
Step 7 – You will be enrolled after paying the admission fee.
Masters in Canada without IELTS
Students who want to study Master's in Canada without IELTS have many options. Many colleges in Canada have combined their Bachelor degree programs with Master's degree programs to offer students who want to get a better education and the best quality education possible. A student, who wants to study masters in Canada without IELTS, can pursue their dream of a better career in any field through these colleges. Students who wish to study masters in Canada with IELTS can clear the course by sitting for the test with IELTS only. However, Study without the IELTS option is not advisable for students who want to study masters programs in Canada with IELTS.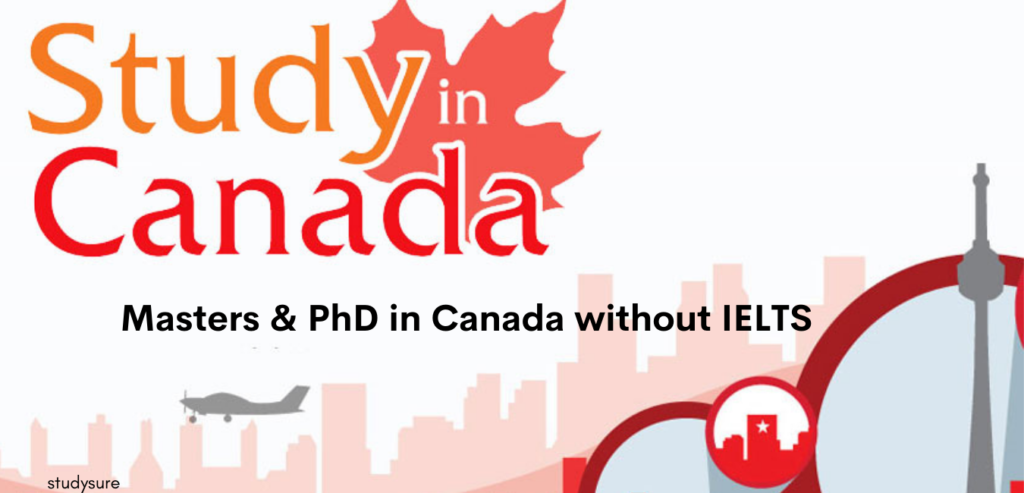 In Canada, many colleges and universities offer a combined Bachelor and Master programs. The curriculum of these programs includes all courses required to complete the degree. Students can choose to take one or two courses.  After completing the course, the university will issue a course completion certificate to the students. The college also issues these certificates for a fee. For students, who are willing to pay the fees for these courses, have the option to enrol in the program even without taking the IELTS.
Apart from providing complete master degree programs in Canada, some colleges also offer an alternative teaching method without taking the test. This method is known as the TOEFL-TA'. The subject matter covered in the TOEFL-TA is English. If a student clears the test, he gets a score equal to the English proficiency score of a native speaker. This score is used for calculating the eligibility of the student for financial assistance from the government.
Apart from the regular master degree programs in Canada, some other courses help students pass the International Language Access Project (ILAP) exam. The International Language Access Project (ILAP) is a program designed and developed by Canadian governments, universities, and colleges. The program was introduced to reduce the barriers, hindrances and difficulties faced by international students in accessing the services offered by Canadian universities and colleges. For this project, students need to pass the TOEFL Test successfully.
 PhD in Canada without IELTS
Are you planning to pursue your PhD in Canada without IELTS? The short answer is No. The long answer is a bit more complicated, and you will need to be prepared to spend a good part of your time in Canada in order to complete your studies. In addition to spending time, you will also have to pay for the services of a private education provider to help you prepare for the TOEFL and other important exams required for this program.
A PhD in Canada without IELTS is not possible because the requirements for this exam are different than those needed for a Canadian study visa. It is extremely difficult to get a PhD in Canada without IELTS.
First, you must be a resident of Canada to apply for a PhD in Canada without IELTS. The second requirement that you must meet is that you must meet the eligibility criteria of the Canadian government to get your doctoral degree from an accredited university or school in Canada. The three universities that provide the most PhD degree programs in Canada are the University of Toronto, the University of Alberta, and British Columbia.
Although many universities offer a doctoral degree in Canada without IELTS, these types of programs do offer a few differences. The clinical component of these programs is not provided in part-time or distance learning programs. Most of these programs can be completed as part-time programs.For many people, getting a PhD in Canada is worth the effort because of the many benefits, especially when it comes to receiving a doctorate.
As mentioned above, the doctoral degree awarded by most schools is worth a lot of money. In addition, a doctorate has a lot of potentials when it comes to being able to secure good employment opportunities. A doctorate program in pharmaceuticals can lead to very high salaries. There are also other pharmaceutical jobs available in Canada, which makes this option even more attractive.
A good part-time PhD student salary for a PhD student may even be higher than that of those who receive their Master's degree. This difference in salaries is that a PhD student is still considered a graduate with the potential to become a doctor.
The decision to obtain a PhD in Canada without IELTS is very significant. It allows you to dedicate yourself to completing the entire course fully. A part-time PhD program can be completed in one year. However, if you complete it in two years or more, you will be closer to attaining your goals.
Even if you have no plans to work in Canada while studying, it can be beneficial to obtain an IELTS study visa. These programs can provide valuable experience that will help you in your future job in Canada or the United States. These programs are essential for many students' educational success. To join these internship programs, you will need a study visa.
Also Read: Study in UK without IELTS
Study in Canada without IELTS – Frequently Asked Questions (FAQ)
Can I study in Canada without IELTS
Yes, IELTS is not required to study in Canada.
Can I study in Canada with a low IELTS band?
Yes, various universities and colleges accept students on criteria other than IELTS.
What are the other English exams for studying in Canada?
CAEL, Cambridge English Assessment, Duolingo English Test, and PTE are some of the other English exams accepted in Canada for higher studies. Read more about Canada study rules
In conclusion, there are several reasons why a person can study in Canada even without the IELTS. First, it will help you secure a better job by increasing your employability chances. Second, it will increase your knowledge and proficiency in a particular field and will be helpful for your future career.
Planning to Study in UK Without IELTS?
Contact us for Assistance & Guidance. Call/Whatsapp on 8086000842 or  Send Enquiry